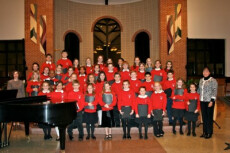 The de Chantal School Choir is made up of 3rd through 8th grade students who are interested in singing in an ensemble. The Choir sings at the all-school Masses and every other month during the 10:00 Sunday Mass.
Grades 3-5 practice on Wednesday from 12:30 to 1:15 pm. Grades 6-8 practice on Tuesday from 9:00 to 9:45 am. The entire choir practices on Fridays 1:00 to 2:00 pm.
Bethesda Students Prepare To Sing For Pope Benedict XVI: MyFoxDC.com
For more information contact Mrs. Olga Morales.