Mrs. Lisa Tehan, BA, MA:
This is my twentieth year at de Chantal, and I have loved every minute of every day! I am surrounded by fantastic teachers, a supportive staff, and wonderful families who chose to send their children to the parish school. I have a Master's in Health and Physical Education. I was a Div. III All-American in lacrosse while attending Glassboro State College, now Rowan University. I was also an All-Conference Field Hockey Player. I captained the lacrosse team for two years and the field hockey team for one. After receiving my Master's Degree, I taught Health and Physical Education at the college level for seven years; five years at Glassboro State College (Rowan University), and two years at Montgomery College. In addition, I was the Head Women's Tennis Coach and the Assistant Women's Lacrosse Coach at Glassboro State College. After getting married, I moved to Maryland and I was appointed Women's Head Tennis Coach at Montgomery College (Rockville) for two years. At MC-Rockville I lead the Women's Tennis Team to a 10th place finish at Div. II Nationals in 1992. In April of 2014 I was inducted into the Montgomery College Athlete Hall of Fame for my years as a successful Tennis Coach. I am also a member of the Glassboro State College Hall of Fame as an athlete. In 2012 I was chosen "Teacher of the Year" for our school, as well as the overall "Teacher of the Year" chosen by the Knights of Columbus Rock Creek Council. I love what I do and I will continue to teach and physically educate my students for as long as I am physically capable. Two years ago I was appointed Co-Director of the After-Care Program. I enjoy caring for the children after school and couldn't run the program without the help of my Co-Director Cathy Yuhaniak. We have a fantastic staff who provide a wonderful service to our school community.
Physical Education:

Grades K-4 have Physical Education once a week for 45 minutes and grades 5-8 have PE twice a week. Each student must come prepared to class wearing the following items; white de Chantal PE T-shirt, and navy blue de Chantal shorts, Velcro or lace up sneakers. All sneakers must be securely fastened and no slip on sneakers are permitted.
In addition to this uniform, all students must own de Chantal sweatpants and a sweatshirt for colder weather. The de Chantal fleece may be worn in place of the sweatshirt. Students may purchase the "track suit" to replace the sweatsuit. If a student forgets his/her sneakers, he/she will not be permitted to participate. This ADW policy is effective as of 1/3/11. Three uniform violations result in their quarterly grade being lowered. The classroom which has the most 100% PE uniforms each half of the year will be rewarded with an ice cream treat. 100% means that each student, excluding the injured and sick, remembered their PE uniform that day.
NOTE: No student will be permitted to participate in Physical Education without his or her sneakers!
Injury or Illness:
Any student who is unable to participate in PE due to illness or injury must present a doctor's note in order to be excused. In the event the child has not had the chance to be seen by a doctor, a note from the parent or guardian will suffice.
General Mills Box Tops for Education:
The Physical Education Program collects General Mills Box Tops to raise money for equipment. Please send in all Box Tops to the school in care of Mrs. Tehan, PE. We have raised as much as $1600 collecting Box Tops, so start clipping and cutting today! General Mills launched a new phone app, so stay tuned on a quick an easy way to submit your "boxtops" by scanning your grocery store receipt! It's easy, just use the app, take a picture of your receipt, and click submit!
A special thanks to the Krimitzas family for organizing the Box Tops Program and spending hours cutting and counting box tops.
American Heart Association/Kids Heart Challenge:
Each year the de Chantal Community helps raise money for the American Heart Association through the Hoops for Heart program, now called The Kids Heart Challenge. This is part of our annual giving projects. Hoops for Heart will take place during PE class the week of February 14th. February is National Heart Month. The class that raises the most money will win a pizza party. Last year we raised over $21,000. The American Heart Association rewards our efforts with physical education equipment from our equipment supplier, US Games.
Parent PE Helpers:
(Due to Covid-19 regulations, no volunteers are accepted at this time)
There is always a need for additional hands in grades K-5. If you are interested in helping out with PE, you must comply with the Archdiocese of Washington Child Protection Policy. No experience is necessary. Patience is a must!
2019-2020 PE Schedule is posted in the gym:
Please send me an e-mail if you would like to volunteer in your child's class.
You must be a certified Volunteer through Virtus which includes finger-printing.
Field Day:
Ask any child what their favorite day of the year is, and they will answer "Field Day." Field Day will be held May 1st. It takes a village to run Field Day. The event runs from 8am-noon. Volunteers are needed for set-up, stations during the day, and clean-up. Look for information to come home in April.
Wilderness Adventure:
*2019-20 6th grade trip rescheduled to May 18-20th, 2021
The 17th annual 6th grade outdoor education field trip to Wilderness Adventure at Eagle landing has not been scheduled at this time due to Covid-19. I will keep you informed based on ADW, State, and CDC recommendations regarding recommendations. I hope we are able to experience this trip. Here is a glimpse of what you would experience:
The students, teachers, and chaperones will leave on a Tuesday morning at 7am and return on Thursday evening at 7pm. The students will truly learn their physical and mental capabilities, as well as the power of teamwork. Canoeing, high ropes, low ropes, rock climbing, swimming and a zipline are the activities scheduled for the trip. The students will stay in two cabins; the main lodge and a smaller cabin. Transportation. lodging, and food are provided.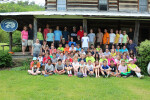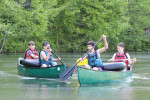 Don't miss this video that Patrick Emerson put together after our trip (May 2016)
https://www.youtube.com/watch?v=RyOUAkqwfbU
St. Jane de Chantal CYO:
St. Jane de Chantal school participates in CYO sports through the Archdiocese of Washington. Grades K-8 have an opportunity to play the following sports: soccer, cross-country, rugby, basketball, softball, baseball, and track. www.stjanecyo.com
Volley Ball Clinic:
In the Spring, our CYO Program offers a Co-ed Volleyball Clinic for grades 6-8. This is run by former collegiate player, Kevin Jana, and Coach Bill Morris.
Ski Club:
The de Chantal 7th and 8th grade have the chance to participate in Ski and Snowboard Club. The students take three to four trips to Liberty and Whitetail Ski Resorts throughout the winter. Katie Russell is the coordinator for Ski Club. For more information visit www.dechantal.com