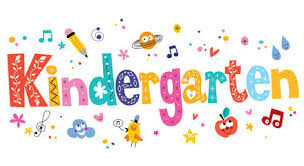 Mrs. Skibo
Email:
Welcome to Kindergarten at St. Jane de Chantal School!
Kindergarten brings Superkids, the Thanksgiving Feast, the 100th Day Party, the Valentine's Day Ball, the very exciting Leprechaun Traps and much more! We look forward to enjoying each and every moment with your children this school year.
In these unprecedented times with Covid19, we are working hard to provide the best possible school experience for your children. We appreciate your patience and positive support at home. Masks must be worn inside school at all times. Masks may worn under the chin outside unless your 6 feet of space cannot be maintained, in which case we will ask your child to pull their masks up. We will eat outside as much as possible. Please send a yoga mat with your child's name on it to use all year for outdoor learning and eating. Don't forget to pack a reusable water bottle (or two). Our water fountains are turned off and we cannot refill water bottles. We would love donations of water bottles to the classroom to pass out as needed.
Please don't hesitate to email me with any questions at .
Love,
Mrs. Skibo
May 23 - 27, 2022
What a great turnout for our Casino Night Gala! I loved seeing all of the kindergarten families there enjoying themselves and bidding up a storm! What a fantastic way to build our community and enjoy it together. This week really begins the downhill slide into the end of the year. Our schedule is packed with learning, traditional events, and celebrations. We will learn digraphs this week (sh, ch, th, wh), finish our chapter on measurement, record observations in our plant journals of our growing sunflower seeds, finish our unit on chick and say goodbye to them on Thursday, and start end of year testing. We will also decorate time capsules, enjoy Spring Fling with the 8th graders, watch the Candle Ceremony, and enjoy a day off on Friday to start the Memorial Day weekend!
Field Day has been rescheduled for June 6th or 7th depending on the weather. More info to come if you would like to volunteer.
Remind your student to keep working on their time capsule. Please also collect letters from parents, grandparents, or anyone important in your child's life. The teachers write letters to each student too! It is due Thursday, May 27th.
Don't forget to order hot lunch by 8pm on Sunday from Vignola. https://vignolas.ahotlunch.com/login
As always, email me with any questions. Have a great week!
Catie Skibo
What we are Learning This Week....
Religion: We will start the week going to our last class mass with the 8th grade on Monday. This week we learn about the liturgical calendar and continue celebrating Mary's month by praying the rosary, singing to Mary, and having our Rosaries blessed. We also watch the Candle Ceremony on Wednesday as the 8th grade students pass on their guiding "lights" to the 7th grade so that the 7th grade can step into their shoes and run the school as our student leaders.
Reading: This week we take a break from Superkids to introduce some early first grade concepts for next year. We are learning about digraphs: a combination of two letters that make one sound, such as "wh." We will learn ch, wh, ph, th, and sh. We practice the memory word: with and review sounds found at the beginning, in the middle, and at the end of words. We finish the unit writing our own sentences to recap our favorite parts of kindergarten and making our own time capsules to remember the year. We will also send home Yy flashcards, we are a little behind but will make sure to send Z flashcards out before the end of the year.
Math: This week we wrap up the chapter on measurement. We focus on measuring capacity and temperature this week with scales, thermometer, and different sized containers. We problem solve using real-life measurement situations and then finish the week with the chapter test. Our last chapter of the year focuses on numbers to 100 and counting by 2's, 5's, and 10's to 100.
Language Arts: This week we will complete worksheets that focus on all letters of the alphabet and long vowel sounds. We practice punctuation in dialogue sentences. We review all of the memory words learned so far (color words, am, see, a, I, the, Superkids, you, of, no, look, for, put, are, said, to, like, said, have, go, with) and we send flashcards home to be practiced and made at home. We continue our small reading groups and we take a benchmark first grade test.
Science/Social Studies: This week we continue our unit on Plants and Flowers as well as wrap up our unit on chicks! We review plant life cycles, parts of a plant, and what a plant needs to survive. We observe our growing sunflower seeds and write in our plant journal. For our chicks, we discuss and write about what we learned and our reflections on the chick unit. We will be able to hold the chicks, let them run around the classroom and investigate what they need to stay alive and continue growth. We will say goodbye to them on Thursday as they travel back to the farm in Frederick!
Superkids We Have Covered
C is for Cass who loves to Cook Concoctions
O is for Oswald who love Odd animals
G is for Golly who loves to sniff Garbage, Grass, and Grape Gum
A is for Alf who loves Adventures
D is for Doc who loves to fix things (doctor things)
S is for Sal who loves Sports
L is for Lily who loves her Little Lions
I is for Icky who loves interesting television shows
T is for Tic, Tac, and Toc who love to Tootle on the Tuba, Toss Tangerine, and Tumble on the Trampoline
F is for Frits who loves to Fish
E is for Ettabetta who loves Puzzles and Games
H is for Hot Rod who loves to race his Fast Cast
U is for Us an Unique
B is for bus, the place the Superkids make their club
R is for Rainbows- the decoration painted on the bus
N is for Noodle- the Supernoodle is the boss
M is for Maps
P is for Picnic
V is for Veterinarian
W is for Weather
K is for King
Q is for Queen
J is for Jokes
X is for boxes
Y is for YOU!
Z is for the Zipzap Quiz
Important Dates
Tuesday, May 24th:
- Spring Fling in the afternoon
Wednesday, May 25th:
- Candle Ceremony
Thursday, May 26th:
Time Capsules are due
Friday, May 27th:
- No School- Teacher retreat
Monday, May 30th:
- No School- Memorial Day
Friday, June 3rd:
- Half Day
Monday, June 5th:
- Half Day
Tuesday, June 6th:
- Half Day
Wednesday, June 7th:
- Last day of school- 10:30am Dismissal
Volunteer Information
Before you may volunteer in the school, you must attend a Child Protection Workshop and complete a background check with Catherine Tomsheck. Please click here for more information: http://www.dechantal.org/hsa/volunteering-compliance-process/
***Important Reminders***
- Please pack your child a snack, drink, trash bag (small newspaper bags work well), and a wash-cloth to use as a placemat EVERYDAY.
- We are a nut-free classroom. Please do not send your child with items that contain nuts or are processed in a factory with nuts for morning snack.
- Important papers will typically be sent home in your child's red folders everyday. Please empty the folder before sending back to school the next day.
- Please practice self-help skills with your children (opening lunch containers, zipping backpacks and lunch boxes, tying shoes, buttoning clothing items). These are skills used in the classroom daily.
- Don't forget to label everything your child brings or wears to school, we have many, many children all wearing the same thing, it is hard to trace clothing and lunch boxes back to their owners!
- When sending money in to school please place in sealed envelope and label the outside with a To: and From: as well as what it is for.
Weekly Specials Schedule
Monday: Art and Computers
Tuesday: Library
Wednesday: Music
Thursday: Art
Friday: PE