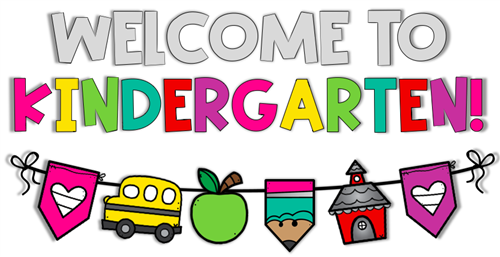 Miss Green
Email:
Kindergarten is an exciting year full of learning and fun! We count to the 100th Day of School, learn about the Superkids in Reading, have a Valentine's Day ball, watch baby chicks hatch in May, and much more!
Thank you for coming to Back to School Night! It was great to meet everyone, even if it was virtually! ;)
**Wednesday is Picture Day! Remember to send in Picture Day forms if you would like to buy the pictures.
**On Thursday we will have a puppet show about The Three Little Pigs at school for the younger grades! Please fill out the field trip form and return by Thursday so your child can attend!!
**This Friday is a half day, 12pm dismissal!
Don't forget to order hot lunch by 5pm on Sunday from Vignola. https://vignolas.ahotlunch.com/login
Below you will find topics we are learning this week. There are also important dates, our specials schedule, reminders, and frequently asked questions for you to look at. Email me with any other questions or concerns!
Have a great week!
Miss Green
September 20-24
Religion: This week we continue reading from the Bible with Adam and Eve and Noah's Ark. We discuss right from wrong with Adam and Eve and how we can be tempted sometimes. We discuss how God will always protect us with Noah's Ark and make our own ark with an art project.
Reading: This week we continue Cass with Superkids. We learn to write uppercase and lowercase Cc and make a cookbook with Cass! On Wednesday we meet our next Superkid, Oswald! Oswald loves to learn, read, and draw odd animals! We listen to Oswald's song and learn how to name and write uppercase and lowercase Oo on ice cream lines - with a pink (strawberry) line on top, yellow (vanilla) line in the middle, and brown (chocolate) line on the bottom. We name words that begin with O (ostrich, octopus, ox, etc.) and learn how O is a vowel, sometimes used in the middle of a word to join the letters together. We read books about odd animals and watch the Supersmart "The Odd Ostrich".
Math: This week we finish sorting and take a math test. We begin Chapter 2: Geometry and Patterns. We start this chapter by introducing shapes. We review 2D shapes we know (square, triangle, circle, rectangle) and introduce 3D shapes (sphere, cone, cylinder, etc.) We find these shapes in our classroom and practice identifying them.
Language Arts: This week continue our RED words (words we cannot sound out) with "orange". We write on whiteboards to practice handwriting, listening, and decoding sounds. We review our color books. We retell stories. We write in our journals.
Science/Social Studies: We continue our unit on apples by learning about Johnny Appleseed. We learn about how Johnny Appleseed is a "tall tale" and is a story that has been passed down from generation to generation. We learn about oral storytelling and read other tall tale stories including Paul Bunyan. We read books and watch videos about Johnny Appleseed. We make a craft with Johnny Appleseed and retell the story with sequencing.
*Weekly Specials Schedule*
Monday: Computers/STEM
Tuesday: Art and Library
Wednesday: Music
Thursday: Art
Friday: **PE** (Please send your child in their PE uniform: white t-shirt with blue circle logo, blue mesh shorts with de Chantal name or logo, sneakers, and white or blue de Chantal socks)
Important Dates
Wednesday, September 22nd:
-Picture Day
Friday, September 24th:
- Half Day
Superkids We Have Learned
C is for Cass who loves to Cook Concoctions
O is for Oswald who likes and draws Odd animals
Volunteer Information
Before you may volunteer in the school, you must attend a Child Protection Workshop and complete a background check with Catherine Tomsheck. Please click here for more information: http://www.dechantal.org/hsa/volunteering-compliance-process/
***Important Reminders***
- Please send your child to school wearing a mask and with a full water bottle every day.
- Please pack your child a snack, drink, trash bag (grocery store bags work well), and a wash-cloth to use as a placemat EVERYDAY.
- We are a NUT-FREE classroom. Please do not send your child with items that contain nuts or are processed in a factory with nuts for morning snack.
- Red folders go home everyday with important papers and graded work. Please empty the folder before sending back to school the next day.
- Please practice self-help skills with your children (opening lunch containers, zipping backpacks and lunch boxes, tying shoes, buttoning clothing items). These are skills used in the classroom daily.
- Don't forget to label everything your child brings or wears to school, we have many children all wearing the same thing, it is hard to trace clothing and lunch boxes back to their owners!
- When sending money in to school please place in sealed envelope and label the outside with a To: and From: as well as what it is for.
- Birthday treats are permissible in school this year. Make sure to send in individually wrapped treats for the whole class.
Frequently Asked Questions
1. What class will my child be in? At de Chantal, Mrs. Hamilton releases the class lists for the upcoming school year a couple of days before school begins in late August. The lists are posted at the entry door for the school (not the door facing old Georgetown Rd, but the door near the Atrium on the side of the school). Mrs. Hamilton will send an email when the class lists come out. This is usually a very exciting and much anticipated announcement for the students! There are two kindergarten classes: KA and KB.
2. What is the uniform for kindergarten students? All uniform items should be purchased at Flynn and O'Hara. There is a fall/spring and winter uniform. There is also a PE uniform. In the fall/spring, boys wear a short sleeve white polo shirt with the de Chantal crest, navy blue Flynn and O'Hara shorts, white or blue de Chantal socks, and the shoes are Bucks. The girls wear short sleeve polo shirts with plaid Bermuda shorts OR a white blouse with the plaid jumper, white or blue de Chantal socks, and either black or blue Mary Janes, saddle shoes, or Bucks. Shoes should be leather, not canvas. ALL kindergarten students wear the PE uniform only on their designated PE day. The PE uniform is navy blue jersey shorts with the de Chantal logo, and a white PE t-shirt with the de Chantal logo. De Chantal socks and sneakers are worn to school on PE days.
3. Is there Hot Lunch and how does my child buy it? Yes. Vignola Gourmet is providing our hot lunch this year. Please see the link on the de Chantal main page to sign up for hot lunches. You must have completed your weekly selections by 5pm on Sunday for the upcoming week. We will eat in the cafeteria 1-2 days per week. The other days will be in the classroom or outside.
4. Are you nut free? YES! We are nut free in every classroom. The cafeteria is not nut free, but does have nut free tables. Sunbutter and coconut are allowed.
5. What should we bring on the first day of school? Your child should be in full fall uniform with a backpack and a lunchbox. The backpack should not be a small pre-k backpack, it should be a full size backpack (Overall: 13.75" wide x 7.5" deep x 17" high or larger works best). NO rolling backpacks please. In the backpack should be all of the school supplies from the list found on our de Chantal school supplies website. In the lunchbox should be snack for the first day, a washcloth to use as a placemat, and a trash bag (no lunch because it is a noon dismissal day). Each day you child's lunch box should have a washcloth to be used as a placemat and a trash bag (newspapers bags work well). Even though you may pack their entire lunch using reusable containers, they will still need a trash bag each day to bring home trash from unexpected birthday treats and other snack items shared with our class.
6. When is dismissal? The first day of school is a noon dismissal. The next days, Wednesday and Thursday are full days with a 3pm dismissal. Friday is a 11:30 dismissal. All school days run from 7:45am- 3pm. You will not be marked tardy if you are in school by 8:10am. Monday, September 6th is Labor Day; there is no school.
7. When is Back to School Night? Back to School night is at 7pm on Zoom on Wednesday, September 15th.
8. Is there Extended Care? Yes, our school has a fabulous extended day program run by our nurse and our current PE teacher. It has an outstanding study hall run by our resource teacher. Hours are from 7-7:45am and 3-6pm. There is an additional fee for the program. You can find more information on our de Chantal website.
9. What should I do if I have any questions? Feel free to email me: or ask a parent friend who's child already attends de Chantal. There is a very detailed Handbook with answers to all of your questions. We will send it out the first week of school.
10. I am worried about my child's adjustment in a new school…. We understand completely and we are here to make that adjustment smooth and seamless. We work hard to make everyone feel welcome, loved, and safe. We will help your child make friends, introduce them to everything at de Chantal, and communicate with you frequently. You will be able to walk your child in to school during the first week of school and after that, 7th and 8th grade students will help walk your child into school and get them to the right classroom. It takes a little bit of time to adjust to kindergarten, but we will be with them every step of the way. Never hesitate to email me and let me know your concerns, even if your child had a rough start to their day and may need some extra love and care. Every year we successfully usher in a new group of kindergarten students and they go on to be successful first graders in June!
11. I'm ready to get involved what should I do first? There are MANY ways to volunteer at de Chantal and that is one of the best ways to jump in and get involved in our vibrant community. To volunteer at de Chantal you must be VIRTUS certified and do a background check with Mrs. Catherine Tomsheck in our business office. For more information please visit http://www.dechantal.org/volunteering/